California Climate Action Planning Conference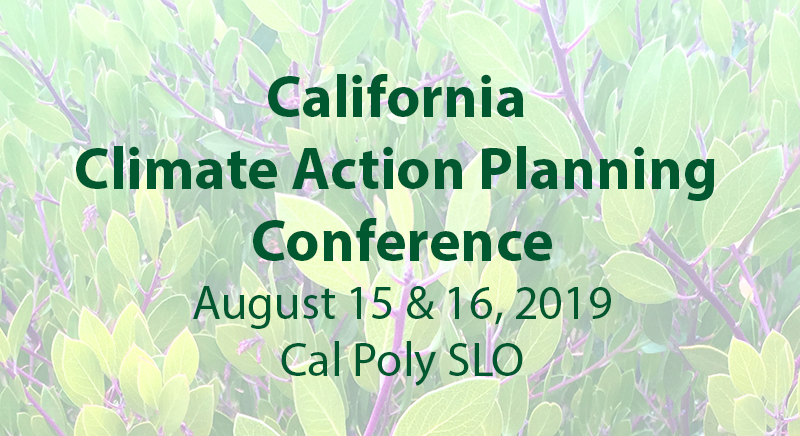 Cal Poly and the Governor's Office of Planning & Research will host the fourth California Climate Action Planning Conference (CCAPC) August 15 & 16, 2019 at the Cal Poly, San Luis Obispo campus.  The conference addresses the climate crisis by focusing on local and regional action, including—pathways to deep de-carbonization, successful financing and implementation, community vulnerability assessment, state planning guidance, and climate justice. The conference will focus on in-depth issues in GHG emissions reduction and climate adaptation at the local and regional level. Panels will feature leaders in the field to bring the most up-to-date and advanced thinking.
Sign up for notifications and the latest on climate action here: http://eepurl.com/cC0HU9.
Conference Program and Registrant Information
REGISTRATION IS NOW OPEN
Click here to register
Program information is coming soon. Previous conferences have included sessions on GHG emissions accounting, transportation and land use, public participation and communication, vulnerability assessment and adaptation, waste reduction, climate justice, state laws and programs, renewable energy, green building, and much more.
Sponsors
**More to be announced soon**
We are currently seeking sponsors for this important conference! For more information, contact Mike Boswell mboswell@calpoly.edu.
Leadership
Conference Directors
Michael R. Boswell, Professor, Cal Poly, Conference Director
Adrienne Greve, Professor, Cal Poly, Conference Assistant Director
Brian McGinnis, Cal Poly, Conference Student Assistant

Steering Committee
Matt Burris, City of Rancho Cucamonga
Nuin-Tara Key, Governor's Office of Planning and Research
Julia Kim, Local Government Commission
Miya Kitahara, StopWaste
Michael McCormick, Harris & Associates
Ron Milam, Fehr & Peers
Jonathan Parfrey, Climate Resolve
Chris Read, City of San Luis Obispo
Tammy Seale, PlaceWorks
Honey Walters, Ascent Environmental
Abby Young, Bay Area Air Quality Management District (BAAQMD)
Related Content